Further details of the much anticipated Apprenticeship Levy have now been published by the Department of Business, Innovation and Skills (BIS). The document provided a summary of the responses received to the Levy consultation conducted in the summer, along with an Annex of basic 'key facts' about the Levy.
The government's response confirmed that:
The apprenticeship Levy will come into effect in April 2017. It will be payable by employers in the UK at 0.5% of paybill.
All employers will receive an allowance of £15,000 to offset against payment of the levy. This effectively means that the levy will only be payable on paybill in excess of £3 million per year.
The Levy will be payable through Pay As You Earn (PAYE) and will be payable alongside income tax and National Insurance.
Each employer will receive one allowance to offset against their Levy payment. There will be a connected persons rule, similar the Employment Allowance connected persons rule, so employers who operate multiple payrolls will only be able to claim one allowance.
The Levy will apply to employers across all sectors.
Paybill will be calculated based on total employee earnings; it will not include other payments such as benefits in kind. It will apply to total employee earnings in respect of all employees.
Legislation to permit the imposition and collection of the Apprenticeship Levy will be introduced in the Finance Bill 2016.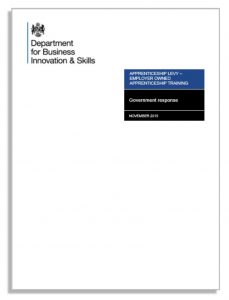 In response to these announcements, Stewart Segal (CEO of the Association of Employment and Learning Providers) said: "The Apprenticeship Levy will be set at the rate of 0.5% of payroll which will mean that the majority of large employers will be encouraged to increase their Apprenticeship programmes. It will also apply to more businesses than we expected because the £3m benchmark means that employers with less than 150 employees could be included in the Levy. We need to understand a lot more of the details but we have recommended that the rules around the Levy need to be very clear and simple if we are to see an effective implementation by April 2017."
Martin Doel (CEO of the Association of Colleges) said: "The Apprenticeship Levy is a genuinely bold move by the Government that will impact on the future of skills training in England by creating a new independent funding stream for Apprenticeships. Setting the Levy at 0.5% of an employer's payroll will help to ensure high-quality training is available, creating a new era of opportunities for colleges and providing high-quality training for many more apprentices. Although the Government needs to remember that Apprenticeships are a job with training so they must continue to encourage employers to provide these roles."
The full government response document can be accessed here: https://www.gov.uk/government/uploads/system/uploads/attachment_data/file/479648/apprenticeship_levy_response_25112015.pdf
_____________________________
SDN have been heavily involved in the Apprenticeship reforms since its inception, working closely with training providers and Trailblazer/Employer Groups. We offer unique insight and support, from tailored consultancy and events, to research and resources. We specialise in other areas of learning and skills too. Sign up here for free content and events – or contact us to find out how we can support you.