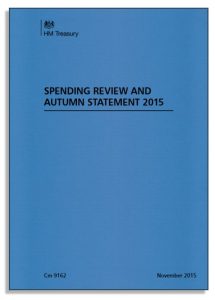 After months of anxious waiting and the Skills Minister's warning at the AoC Conference last week that FE would not be "insulated from further cuts", early budget announcements made yesterday were not as severe as many had feared.
Chancellor George Osborne's Spending Review gave headline announcements about the level of funding allocated to various high-profile programmes in FE. Perhaps the most surprising was that the adult FE budget (£1.5bn) would be protected in cash terms for the next four years. It was expected that BIS would have to make departmental budget cuts of over 25% and many anticipated that the axe would fall on the Adult Skills Budget. Mr Osbourne revealed yesterday that BIS's overall budget would be reduced to 17% instead.
There were also welcome announcements that Sixth-Form Colleges would now be allowed to convert to Academy status, meaning that those who change status will no longer be liable for VAT costs – a long running issue for many Sixth-Form Colleges.
In a bid to make savings, FE Loans will be extended to 'tuition fee loans to 19 to 23-year-olds at levels three and four, and 19+ year-olds at levels five and six'. This may have significant implications for some training providers who are now waiting further details to be published.
The Chancellor also announced new details about the much anticipated Apprenticeship Levy:
"Today I am setting the rate at 0.5 per cent of an employer's paybill. Every employer will receive a £15,000 allowance to offset against the Levy — which means over 98 per cent of all employers — and all businesses with paybills of less than £3 million, will pay no Levy at all.
"Britain's Apprenticeship Levy will raise £3bn a year. It will fund 3 million Apprenticeships. With those paying it able to get out more than they put in."
More detail about the Apprenticeship Levy has been covered in a separate SDN news article here and can also be found in the Annex of the government's response document here: https://www.gov.uk/government/uploads/system/uploads/attachment_data/file/479648/apprenticeship_levy_response_25112015.pdf
________________________________
SDN have been heavily involved in the Apprenticeship reforms since its inception, working closely with training providers and Trailblazer/Employer Groups. We offer unique insight and support, from tailored consultancy and events, to research and resources. We specialise in other areas of learning and skills too. Sign up here for free content and events – or contact us to find out how we can support you.