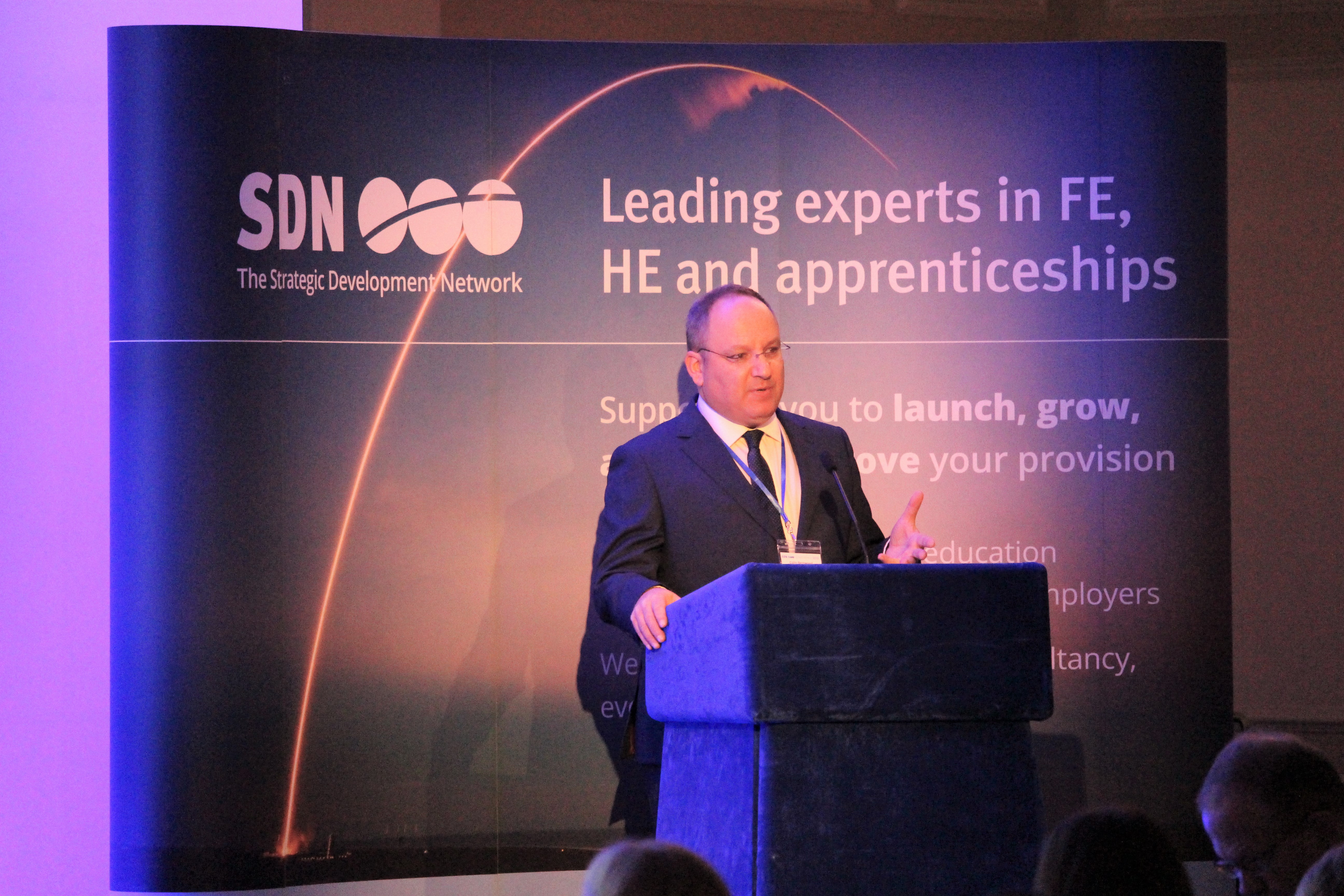 SDN delivered its first Apprenticeship Breakthrough Conference to a sold-out audience in Birmingham on 29th April. The conference purposely steered away from analysing the pros and cons of apprenticeship policy – instead focusing on the day-to-day delivery of apprenticeship standards and end-point assessment for front-line staff.
So, what were the key takeaways from the day? SDN Managing Director, Colin Bentwood, outlines five themes that emerged during the course of the day… (plus conference photos are at the bottom of the page!)
Lay strong foundations
"Delivering apprenticeship standards is completely different to delivering apprenticeship frameworks. Over and over again, speakers and delegates talked about the need for robust initial assessments and developing curriculums that were bespoke to each apprentice's particular circumstances.
"With no set NVQ to follow, practitioners must have thorough processes in place to understand where an apprentice is at the start of the journey and what the employer is expecting from the programme – a clear plan should be laid before learning starts."
(Here's Ofsted's Chris Jones speaking about it in more detail)
Speak the same language as the employer
"Apprenticeship standards bring a lot of new terms and processes that employers need to understand. This is especially true for employers that are used to frameworks – as their expectations of an apprenticeship can be out-of-date.
"For example, does the employer understand End-Point Assessment, Gateway, 20% off-the-job commitments? Making sure the employer knows their role and responsibilities is crucial to helping apprentices achieve."
The value of achievement
"During the conference we ran an interactive session, where delegates heard from apprentices that have been through end-point assessment. One of the things that emerged from this session, and the EPAOs who spoke, was that apprentices on standards have a clearer sense of achievement, because of the end-point assessment process, than those on frameworks.
"Yes, end-point assessment can be daunting for some, but once through the end-point, apprentices know that they have finished, proved their competence in their profession and are able to take the next step on the career ladder with renewed confidence. That sense of achievement should not be underestimated in the value of the programme."
Avoid training to the test
"As practitioners get used to delivering apprenticeship standards and have a clearer understanding of how to prepare apprentices for the end-point assessment, the temptation will be narrow the learning programme and solely focus on training apprentices to get through the end 'test'.
"However, the advice from speakers was not to get complacent. For starters, as practitioners, we have a professional duty to train apprentices so they are competent not just compliant, but Ofsted will also be looking out for this type of 'training to the test' mentality under the new inspection framework."
(Strategic Associate Louise Doyle, unpacks this in her interview with FE News here)
Listen to a range of stakeholders
"For me, one of the best things about the Conference was the variety of delegates and speakers that attended. We had a room full of front-line staff from FE Colleges, private providers, local authorities, employers, HEIs and EPAOs all sharing and learning from each other. We heard from apprentices, trainers and curriculum leads, employers, EPAOs, Ofsted, and sector stakeholders.
"I think it's really important to listen to a wide range of views and differing perspectives on what is currently working in apprenticeship provision and what can be improved. This variety of insight helps practitioners collaborate, unpick particular issues, hone best practice and continue to develop apprenticeship practice to the benefit of learners and employers."
Hear from the Conference speakers!
Over the next two weeks, FE News will be releasing insights from some of the speakers at the Apprenticeship Breakthrough Conference. To keep up to date, or listen to the videos already released, visit here.
Need more tailored support?
SDN has been at the forefront of the apprenticeship reforms, supporting organisations and staff to deliver apprenticeships standards and end-point assessment. Want to find out how we can help you? Contact us for an informal chat.