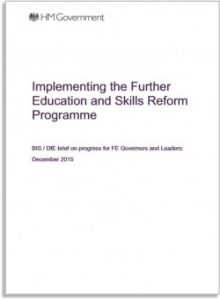 Skills Minister Nick Bowles has announced that current restrictions on who can deliver Traineeships will be relaxed. As it currently stands, only training providers with an Ofsted grade of 'good' or 'outstanding' can directly receive government funding to deliver Traineeships. In a letter to College Governors, Skills Minister Nick Bowles confirmed:
'Now that Traineeships are fully established and getting excellent results for young people, from 2016/17 we will place them on a par with other provision by removing this requirement. This will enable more providers to deliver Traineeships and ultimately more young people to benefit from them.'
Organisations such as the Association of Employment and Learning Providers have called for this restriction to be relaxed for some time, arguing that provider eligibility should reflect that of the Apprenticeship programme, given the clear route-way between the two programmes.
The Government fell just short of reaching its 20,000 Traineeship starts target in 2014/15, with some suggesting that this change in the rules puts quantity before quality.
The letter to College Governors can be found here.
—
SDN have been at the forefront of supporting training providers to start and improve their Traineeship delivery. Over the last two years, SDN have conducted tailored support for over 70 Traineeship providers across England (with 100% satisfaction). If you need support to start delivering Traineeships for the first time or improve your provision, then do get in contact to find out more.
SDN offer unique insight and support, from tailored consultancy and events, to research and resources. We specialise in other areas of learning and skills too. You can also sign up here for free content and events.