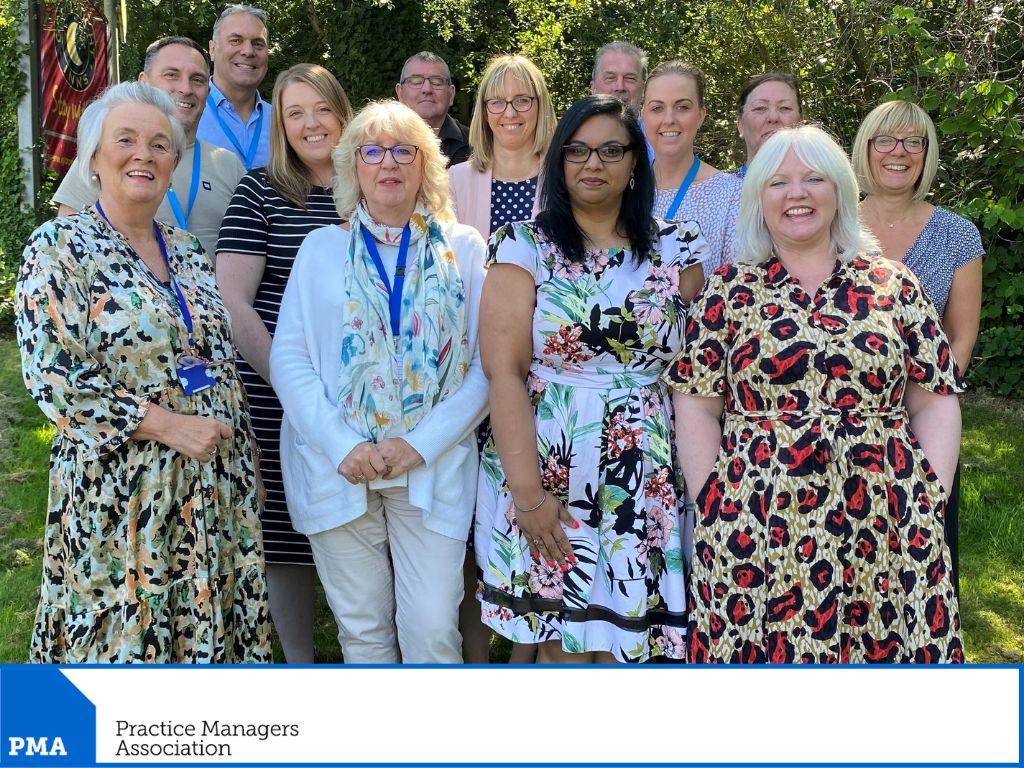 "I want us to be the first-choice provider for anyone in the health and care field and to get to grade one outstanding within three to five years."
Sarah and the PMA team are on a mission. But it's not been an easy journey.
We've got to know PMA Ltd well over the last two years. As the leading association for GP Practice Managers and non-clinical professions, PMA decided to start offering apprenticeships to their member organisations in 2019.
With a challenging start, PMA doubled down on building a high-quality apprenticeship offer — moving from 'insufficient progress' in their early monitoring visit to 'good' at their full inspection within 12 months.
So, what made the difference? What underpinned the rapid improvement to quality, and what lessons were learnt along the way?
Tim Chewter recently caught up with Sarah Burrows, Head of Education at PMA to find out.
Tell me a bit more about PMA Ltd and what apprenticeships you deliver.
"We gained ESFA accreditation in May 2017 and began provision early 2018, We got our approved-provider status in 2019, and since then we've been delivering apprenticeships to approximately 150–200 apprentices nationally from Level 2 to Level 5 focused on non-clinical healthcare, dental and business practitioner, and management roles.
Apprentices work in doctors' or dentists' surgeries across the country, most of which continue to operate within stringent COVID-19 restrictions."
What were the drivers in wanting to deliver apprenticeships?
"PMA hadn't originally planned to go into apprenticeships. It was actually the PMA Membership council who said: "You do all of this training and development for us. It's bespoke. It's niche. It's exactly what the sector needs. Why don't you offer apprenticeships?" They knew PMA could really tailor the apprenticeship standards to particular roles because we know the sector so well."
Early 2021, you had your early monitoring visit with Ofsted – how did it go? Was it a helpful process?
"We knew apprenticeship delivery would be complex but because PMA were so successful in other areas — including its 50,000+ membership, recruit function, workshops, and e-learning — we had confidence that we'd be able to deliver apprentices too.
That first early monitoring visit was eye-opening, and we were disappointed with the report findings. We made reasonable progress in two areas but knew we had work to do. We had the drive, determination and focus to make sure we could be a solid grade two 'good' working towards grade one 'outstanding'.
After the visit, we reflected on the apprenticeship part of PMA. We were so successful in everything else but success in apprenticeships seemed out of reach. We had to decide if delivering apprenticeships was the right business decision. We wanted to do them properly and be the best at delivering them.
The stopping of our new starts was tough to hear initially, it was actually a blessing in disguise. It gave us the chance to re-evaluate, take stock and refocus. We really believe in being a learning organisation, we take CPD very seriously. We realised we'd benefit from some external support to cast a critical eye over our delivery and support us moving forward."
What was the first step you took in implementing change, after your early monitoring visit?
"Step one was to complete a 'recalibration project' to examine every learner's progress. We went back to basics to check if they were getting a good, solid learning experience that was fit for purpose and exceeded learner/employer expectations. We re-evaluated the impact the apprenticeship was having on individual learners personally and what up-sides the employer was getting from having an apprentice in the workplace. Our mission is to recruit, retain and promote people in the non-clinical space and we know the importance of apprentices to this mission, so we made sure the apprentice was adding value to their employer's workplace.
We now know that when a learner stays on programme with us, they achieve high grades. We've got high expectations of our learners and employers and make sure they aspire to be the best that they can be. Learners can access the PMA's wide-ranging e-learning and workshop sessions, they're assigned a qualified educationalist and subject expert to guide them through their apprenticeship programme and they get free access to the PMA membership, so they're supported by a huge community of practitioners in the sector. The PMA also has specialist Functional Skills Tutors and a Wellbeing team to meet all learner needs.
When Ofsted came back a year later, they were saying, 'Well you haven't had new starts, how do you know that these changes will work?'. We were able to show them the visible results from the recalibration project with our current on-programme learners. It made a huge difference."
What other areas of your provision did your early monitoring report highlight to work on and how did you work to improve them?
"Overall, there was a general lack of understanding of what an apprenticeship was and how they should be delivered in practice.
The PMA realised they didn't have the right people in the right posts at that time. They brought in a colleague to work on safeguarding and pastoral and brought me in to do curriculum and overall planning. Bringing in external 'experts' for apprenticeship delivery and quality meant we weren't overlooking any areas of delivery. A team revamp had started already, so the PMA were moving from a mostly freelance model to an established team working together for the same goal. Some members were promoted, and some new ones recruited so there was a fresh burst of energy and enthusiasm to get the job done to a high standard.
We introduced an apprentice progress report — like you'd have at school — that showed if learners were exceeding targets, were on target or under target. That's sent to the apprentice and employer with a breakdown of the learner's progress and a clear action plan. They were morale boosting for those doing well and reassured those who were on track. For learners a bit behind, we set up a detailed dialogue with the apprentice and employer to explore the reasons why, whether the programme needed extending or if the apprentice needed a learning break. We had so much positive feedback from the learners who progressed after getting these reports. One learner used their report in her appraisal and got a pay rise!
We also had a massive focus on quality first. That's our agenda all the time now! How does this impact the learner? How do we make this outstanding? Does this standard fit in our portfolio? If it's not high quality, then we're not doing it. If we can do it really well, we'll look into it but if it's something we think other providers can do better, or there's duplication in the market, we won't touch it.
For the PMA, it's important to have a clear rationale for what your intention is. Have a smaller portfolio and focus on high quality."
What adjustments did you need to make during the pandemic?
"Because of the sector we work in, we had many apprentices impacted by COVID.
We worked hard to make sure apprentices knew their deadlines, but we were as flexible as possible about this. For instance, some apprentices were doing six-week vaccination clinics so wouldn't be able to see us over that time.
We didn't want to add to the apprentice's pandemic stress but at the same time, the sector needed these qualified staff more than ever, so there were high demands on our learners, but we knew it was important to retain them and give them the opportunity to be promoted within the sector. We had to maintain high expectations while providing additional help and flexibility.
Because our sector struggles to recruit and retain top talent, we see developing the next leaders of the sector as part of our role. So, it's vital we deliver outstanding provision that's bespoke, trusted and high-quality."
Ofsted visited again in spring 2022 for your full inspection – how did it go?
"I've been through many inspections, but this was the first time I was the quality nominee. This made it quite personal — the last 12 months of all our lives at the PMA had been dedicated to our apprentices and employers, to raising the quality of our apprenticeship programme, and I wanted Ofsted to see the journey we had been on and the positive impact that PMA had.
It was a brilliant experience. Ofsted were clear on the process they wanted to follow. We could ask questions at any time. I was given the opportunity to put all the evidence in front of them. It was really supportive, we learned so much from it. The inspection team was fair and robust. They offered support and challenge in equal measure and could see the focus on quality and learner experience that we'd developed. They advised us on what we could look at in the future to reach 'outstanding'.
It went well I think because we were so transparent and authentic. We didn't try to hide anything; we knew where our skeletons were. We highlighted an employer who'd had a bad experience with us in the past but said he would hopefully tell them how much we've improved. The employer told the inspector it was like night and day since the monitoring visit, and it ended up being a great indicator of the work we'd put in. Honesty is the best policy, it certainly worked for us!
We've made big strides in a short amount of time. Our inspector couldn't believe the difference, it was like walking into a completely different provider. But that's because the team have been amazing — we've definitely got the right team in place."
What support did you access along the way that helped you on your journey?
"We worked closely with Chris Cherry and David Lockhart-Hawkins.
The curriculum-building work with Chris came at just the right time. Our original curriculum hadn't brought everything we offered together seamlessly, so we had an opportunity to make our curriculum absolutely amazing — and Chris gave us the roadmap. We also attended the end-point assessment course, so we could support our apprentices to succeed and work towards higher grades.
David's auditing work and advice has also been critical in terms of apprenticeship data, initial assessment, and on-programme design.
We also worked closely with Louise Doyle at Mesma. Louise, with all her SAR and QIP knowledge, was my mentor without even knowing it! She gave us so many small pieces of advice that were key. We got this great external focus from somebody who acted as a critical friend."
What are PMA's plans for the future?
"A big issue in health and care at the moment is retention. The NHS and all the care sectors are haemorrhaging staff due to the pandemic. The PMA's big push is to make sure that we can acquire learners, retain them and progress them in their careers. We want to keep these learners in the sector.
I want us to be the first-choice provider for anyone in the health and care field and to get to grade one outstanding within three to five years."
You can find out more about PMA here
For more information about SDN's consultancy support and CPD to help you improve the quality of your provision, visit our provider page and our events page.