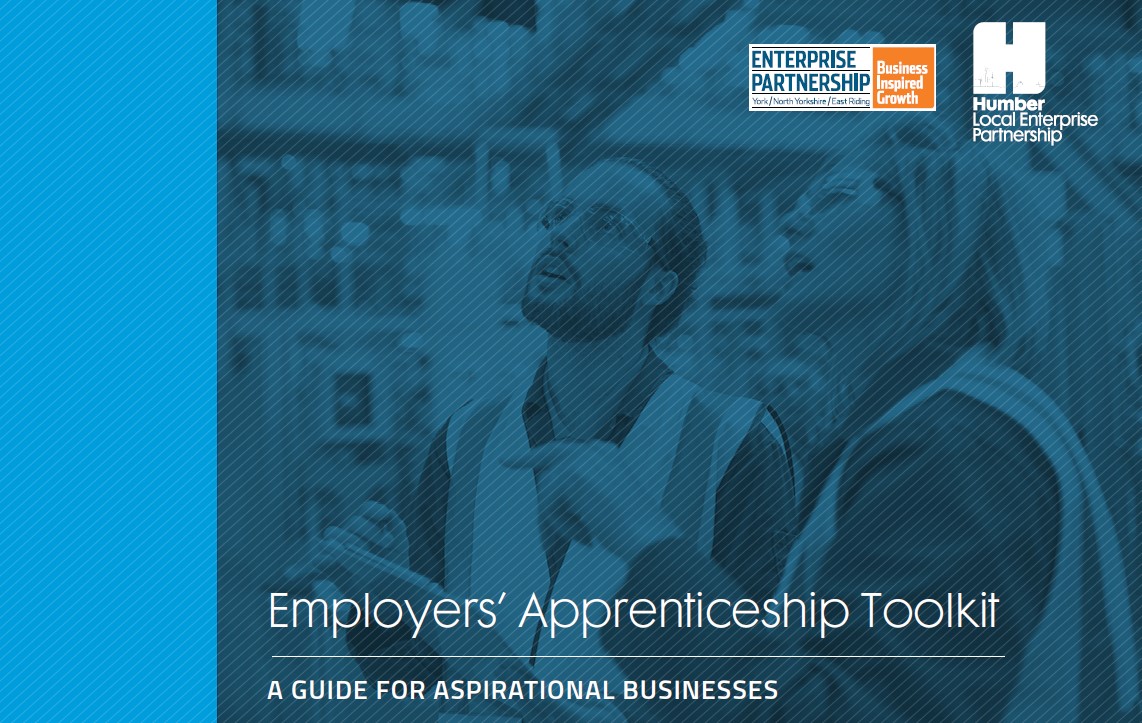 The Strategic Development Network (SDN) has created an Employers' Apprenticeship Toolkit for aspirational businesses based in Humber, York, North Yorkshire and East Riding thanks to a jointly commissioned project between two Local Enterprise Partnerships.
The project builds on SDN's industry-renowned Future Apprenticeship toolkit, created in 2015, to provide a detailed roadmap for training organisations to best adapt to the apprenticeship reforms. In a similar vein, this employer guide is aimed at demonstrating in detail to small and medium size businesses how to develop their people, improve staff satisfaction and grow – by implementing a well-planned apprenticeship programme.
The toolkit was commissioned by Humber LEP and York, North Yorkshire and East Riding LEP to provide businesses with insight and tools to help them understand where apprenticeship training could have a real impact on their business performance.
Amanda Scrimgeour, Employment and Skills Manager, Humber LEP explains:
"The businesses we spoke to were interested in apprenticeship training, but receiving mixed messages about its cost, impact and rules around 20% off-the-job training. SDN's impartial and practical Employer Toolkit answers those questions, setting out clear guidance, actions, examples and tools.
"The feedback we've received so far has been excellent! SMEs in particular, who do not have the human resource of larger companies to investigate apprenticeships as thoroughly, are finding the toolkit to be a real help in navigating the world of apprenticeships and the opportunities they present.
"Ultimately, the guide provides a key tool in helping improve the quantity and quality of apprenticeship opportunities in Humber LEP region and we're really impressed with the final product."
How does the Employers' Apprenticeship Toolkit work?
The guide is split into two broad sections:
A quick overview for employers that just want to understand the basics, get going and trust in their chosen training provider to implement a successful programme.
A detailed breakdown of apprenticeships, with tools including: cost-benefit analysis, questions to ask training providers, preparing for end-point assessment and much more. This part of the guide is for employers to dip in and out of as they move through the apprenticeship journey.
Colin Bentwood, Managing Director, SDN explains the organisation's approach:
"Although we work across the country, it was important not to rely on our own preconceptions of what the issues to engagement were in this part of the country. The two LEPs had carried out research on the barriers local employers had to engaging in apprenticeships, which we used to drive the guidance, actions and tools in the toolkit.
"This is how we approach all our consultancy and support for the sector; we develop an insight into the problems affecting our clients, and bring together the right team of specialists to provide the best possible support. Whether that's LEPs, training organisations, EPAOs, industry bodies, or levy-paying employers, SDN can support your apprenticeship and skills ambitions."   
To view the Employers' Apprenticeship Toolkit, visit Humber LEP's skills resources page: http://www.humberlep.org/skills/skills-resources/
To enquire about SDN's full range of apprenticeship and skills consultancy services contact us.